Recent News
Featured Articles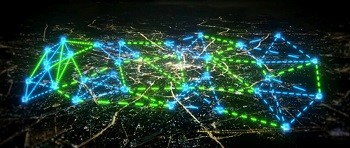 Quantum key distribution (QKD) would play an important role in future information technologies due to its theoretically proven security based on the laws of quantum mechanics. How to realize QKDs among multiple users in an effective and simple way is crucial for its real applications in communication networks. In this work, we propose and demonstrate a fully connected QKD network without trusted node for a large number of users. Using flexible wavelength division multiplexing/demultiplexing and space division multiplexing, entanglement resources generated by a broadband energy-time entangled quantum light source are distributed to 40 users. Any two users share a part of entanglement resources, by which QKD is established between them. As a result, it realizes a fully connected network with 40 users and 780 QKD links. The performance of this network architecture is also discussed theoretically, showing its potential on developing quantum communication networks with large user numbers owing to its simplicity, scalability, and high efficiency.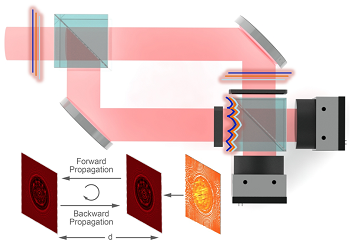 Accurate depiction of waves in temporal and spatial is essential to the investigation of interactions between physical objects and waves. Digital holography (DH) can perform quantitative analysis of wave–matter interactions. Full detector-bandwidth reconstruction can be realized based on in-line DH. But the overlapping of twin images strongly prevents quantitative analysis. For off-axis DH, the object wave and the detector bandwidth need to satisfy certain conditions to perform reconstruction accurately. Here, we present a reliable approach involving a coupled configuration for combining two in-line holograms and one off-axis hologram, using a rapidly converging iterative procedure based on two-plane coupled phase retrieval (TwPCPR) method. It realizes a fast-convergence holographic calculation method. High-resolution and full-field reconstruction by exploiting the full bandwidth are demonstrated for complex-amplitude reconstruction. Off-axis optimization phase provides an effective initial guess to avoid stagnation and minimize the required measurements of multi-plane phase retrieval. The proposed strategy works well for more extended samples without any prior assumptions of the objects including support, non-negative, sparse constraints, etc. It helps to enhance and empower applications in wavefront sensing, computational microscopy and biological tissue analysis.
Aims and scope
PhotoniX aims to present brave endeavors in promoting X-disciplinary research, latest progress of engineering applications and breakthroughs in scientific discoveries, all enabled by photonics. Original scientific letters, articles, reviews, and technology progress reports are equally welcome.

The journal focuses on the enabling power of photonics, with topics including but not limited to:
Light manipulation and applications, beam propagation and steering techniques
Optical communication, storage, information processing and computing
Photonics for big data and artificial intelligence
Astrophotonics and aero-space optics
Optical sensing technologies
Terahertz and X-ray optics
Green technologies
Small-scale optics
Nonlinear optics
Optoelectronics
Meta optics
Bionics
Why submit to us?
1. About photonics but truly cross-disciplinary
2. Fully Open Access with high visibility
3. An official journal of the Chinese Society for Optical Engineering (CSOE) and APC fully covered by CSOE (in first two years)
4. Served by a renowned, dedicated and international editorial board to give professional editorial response
Editors' Quotes
Editor-in-Chief Min Gu "It is no doubt that photonics has become a key enabling technology platform for our sustainable life. It is at this exciting time that we welcome the arrival of the inaugural issue of the journal, PhotoniX, to our photonics community. We aim that the new journal not only truly showcases the enabling power of photonics, but also strives to develop this power into cultivating industries as well as improving the competitiveness, the scope and depth of science and technology in general..."
Editor-in-Chief Min Qiu "This open-access journal focuses on photonic technology with cutting-edge, multidisciplinary and derivative characteristics, aiming to become a platform to promote the international frontier "Enabling Technology". It comes at a crucial moment when both academia and industry urgently need a platform to explore the true enabling power of photonics..."
Editor-in-Chief: Min Gu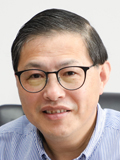 He is Executive Chancellor and Distinguished Professor of University of Shanghai for Science and Technology. He was Distinguished Professor and Associate Deputy Vice-Chancellor at RMIT University and a Laureate Fellow of the Australian Research Council. He is an author of 4 standard reference books and has over 500 publications in nano/biophotonics. He is an elected fellow of the Australian Academy of Science and the Australian Academy of Technological Sciences and Engineering as well as foreign fellow of the Chinese Academy of Engineering. He is also an elected fellow of the AIP, the OSA, the SPIE, the InstP, and the IEEE. He was President of the International Society of Optics within Life Sciences, Vice President of the Board of the International Commission for Optics (ICO) (Chair of the ICO Prize Committee) and a Director of the Board of the Optical Society of America (Chair of the International Council). He was awarded the Einstein Professorship, the W. H. (Beattie) Steel Medal, the Ian Wark Medal, the Boas Medal and the Victoria Prize for Science and Innovation. He is a winner of the 2019 Dennis Gabor Award of SPIE.
Editor-in-Chief: Min Qiu

He received the Ph.D. degree from Zhejiang University in 1999. He received his second Ph.D. degree and became an assistant professor at the Royal Institute of Technology (KTH), Stockholm, Sweden, in 2001. He became a full professor (Professor of Photonics) at KTH in 2009. Since 2010, he became a distinguished professor at Zhejiang University. He was the Director of State Key Laboratory of Modern Optical Instrumentation, Zhejiang University. He joined Westlake University as a Chair Professor of Photonics in April 2018. His research interests include nanofabrication technology, nanophotonics, and green photonics. He was elected a fellow of the Institute of Electrical and Electronics Engineers (IEEE) in 2015, a fellow of the Optical Society of America (OSA) and a fellow of the International Society for Optics and Photonics (SPIE) in 2013. He is leading a project on solar thermal energy utilization through the National Key Research and Development Program of China (No. 2017YFA0205700). He is currently an editor of Optics Communications (Elsevier), a topical editor of Light: Science and Applications (Springer Nature), and an associate editor of Science Bulletin (Science China Press).
Annual Journal Metrics
Speed
25 days to first decision for all manuscripts
33 days to first decision for reviewed manuscripts only
72 days from submission to acceptance
38 days from acceptance to publication

Usage
74,309 downloads (2021)
This journal is indexed by
o Science Citation Index Expanded
o DOAJ
o CNKI
o Dimensions
o EBSCO Discovery Service
o Google Scholar
o Naver
o OCLC WorldCat Discovery Service
o ProQuest-ExLibris Summon
o ProQuest-ExLibris Primo
o TD Net Discovery Service
o Portico
o INSPEC
o Current Contents/Physical, Chemical and Earth Sciences
o Current Contents/Engineering, Computing and Technology
o CNPIEC
o CLOCKSS

ISSN: 2662-1991 (electronic)