News
Featured Articles
Ultracompact multifunctional metalens visor for augmented reality displays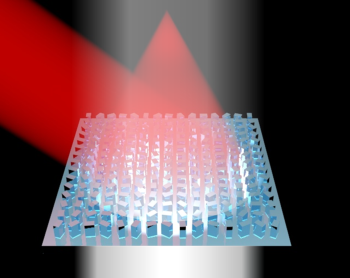 Virtual reality (VR) and augmented reality (AR) have found widespread applications in education, engineering, healthcare, and entertainment. However, these near-eye displays are often bulky and heavy, and thus are not suitable for long-term wearing. Metalenses, with an ultra-thin formfactor, subwavelength modulation scale, and high modulation flexibility, are promising candidates to replace the conventional optics in AR display systems. In this work, we proposed and fabricated a novel reflective dielectric metalens-visor based on Pancharatnam-Berry phase with see-through capability. It achieves diffraction-limited focusing behavior for the reflected red light, while keeping a good transmission spectrum in the visible region. Hence, this single piece metalens-visor can perform the function of two integrated elements simultaneously: an eyepiece and an optical combiner, which in turn greatly reduces the weight and the size of an AR display. We have implemented a proof-of-concept AR display system employing the metalens-visor, and experimentally demonstrated color AR images with good image quality. This work reveals the great potential of multi-functional metasurface devices which enables optical integration in interdisciplinary applications including wearable displays, biological imaging, and aeronautic optical instruments.
Intelligent optoelectronic processor for orbital angular momentum spectrum measurement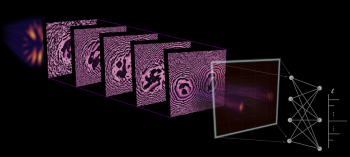 Orbital angular momentum (OAM) detection underpins almost all aspects of vortex beams' advances such as communication and quantum analogy. Conventional schemes are frustrated by low speed, complicated system, limited detection range. Here, we devise an intelligent processor composed of photonic and electronic neurons for OAM spectrum measurement in a fast, accurate and direct manner. Specifically, optical layers extract invisible topological charge information from incoming light and a shallow electronic layer predicts the exact spectrum. The integration of optical-computing promises us a compact single-shot system with high speed and energy efficiency (optical operations / electronic operations ~103), neither necessitating reference wave nor repetitive steps. Importantly, our processor is endowed with salient generalization ability and robustness against diverse structured light and adverse effects (mean squared error ~10(−5)). We further raise a universal model interpretation paradigm to reveal the underlying physical mechanisms in the hybrid processor, as distinct from conventional 'black-box' networks. Such interpretation algorithm can improve the detection efficiency up to 25-fold. We also complete the theory of optoelectronic network enabling its efficient training. This work not only contributes to the explorations on OAM physics and applications, and also broadly inspires the advanced links between intelligent computing and physical effects.
Aims and scope
PhotoniX aims to present brave endeavors in promoting X-disciplinary research, latest progress of engineering applications and breakthroughs in scientific discoveries, all enabled by photonics. Original scientific letters, articles, reviews, and technology progress reports are equally welcome.

The journal focuses on the enabling power of photonics, with topics including but not limited to:
Light manipulation and applications, beam propagation and steering techniques
Optical communication, storage, information processing and computing
Photonics for big data and artificial intelligence
Astrophotonics and aero-space optics
Optical sensing technologies
Terahertz and X-ray optics
Green technologies
Small-scale optics
Nonlinear optics
Optoelectronics
Meta optics
Bionics
Why submit to us?
1. About photonics but truly cross-disciplinary
2. Fully Open Access with high visibility
3. An official journal of the Chinese Society for Optical Engineering (CSOE)
4. Served by a renowned, dedicated and international editorial board to give professional editorial response
Editors' Quotes
Editor-in-Chief Min Gu "It is no doubt that photonics has become a key enabling technology platform for our sustainable life. It is at this exciting time that we welcome the arrival of the inaugural issue of the journal, PhotoniX, to our photonics community. We aim that the new journal not only truly showcases the enabling power of photonics, but also strives to develop this power into cultivating industries as well as improving the competitiveness, the scope and depth of science and technology in general..."
Editor-in-Chief Min Qiu "This open-access journal focuses on photonic technology with cutting-edge, multidisciplinary and derivative characteristics, aiming to become a platform to promote the international frontier "Enabling Technology". It comes at a crucial moment when both academia and industry urgently need a platform to explore the true enabling power of photonics..."
Editor-in-Chief: Min Gu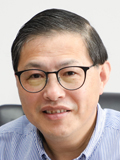 He is Executive Chancellor and Distinguished Professor of University of Shanghai for Science and Technology. He was Distinguished Professor and Associate Deputy Vice-Chancellor at RMIT University and a Laureate Fellow of the Australian Research Council. He is an author of 4 standard reference books and has over 500 publications in nano/biophotonics. He is an elected fellow of the Australian Academy of Science and the Australian Academy of Technological Sciences and Engineering as well as foreign fellow of the Chinese Academy of Engineering. He is also an elected fellow of the AIP, the OSA, the SPIE, the InstP, and the IEEE. He was President of the International Society of Optics within Life Sciences, Vice President of the Board of the International Commission for Optics (ICO) (Chair of the ICO Prize Committee) and a Director of the Board of the Optical Society of America (Chair of the International Council). He was awarded the Einstein Professorship, the W. H. (Beattie) Steel Medal, the Ian Wark Medal, the Boas Medal and the Victoria Prize for Science and Innovation. He is a winner of the 2019 Dennis Gabor Award of SPIE.
Editor-in-Chief: Min Qiu

He received the Ph.D. degree from Zhejiang University in 1999. He received his second Ph.D. degree and became an assistant professor at the Royal Institute of Technology (KTH), Stockholm, Sweden, in 2001. He became a full professor (Professor of Photonics) at KTH in 2009. Since 2010, he became a distinguished professor at Zhejiang University. He was the Director of State Key Laboratory of Modern Optical Instrumentation, Zhejiang University. He joined Westlake University as a Chair Professor of Photonics in April 2018. His research interests include nanofabrication technology, nanophotonics, and green photonics. He was elected a fellow of the Institute of Electrical and Electronics Engineers (IEEE) in 2015, a fellow of the Optical Society of America (OSA) and a fellow of the International Society for Optics and Photonics (SPIE) in 2013. He is leading a project on solar thermal energy utilization through the National Key Research and Development Program of China (No. 2017YFA0205700). He is currently an editor of Optics Communications (Elsevier), a topical editor of Light: Science and Applications (Springer Nature), and an associate editor of Science Bulletin (Science China Press).
Annual Journal Metrics
Citation Impact
19.818 - 2-year Impact Factor (2021)
19.818 - 5-year Impact Factor (2021)

Speed
19 days to first decision for all manuscripts (Median)
29 days to first decision for reviewed manuscripts only (Median)

Usage
127,884 downloads (2022)
This journal is indexed by
SCOPUS
Science Citation Index Expanded
DOAJ
CNKI
Dimensions
EBSCO Discovery Service
Google Scholar
Naver
OCLC WorldCat Discovery Service
ProQuest-ExLibris Summon
ProQuest-ExLibris Primo
TD Net Discovery Service
Portico
INSPEC
Current Contents/Physical, Chemical and Earth Sciences
Current Contents/Engineering, Computing and Technology
CNPIEC
CLOCKSS
ISSN: 2662-1991 (electronic)